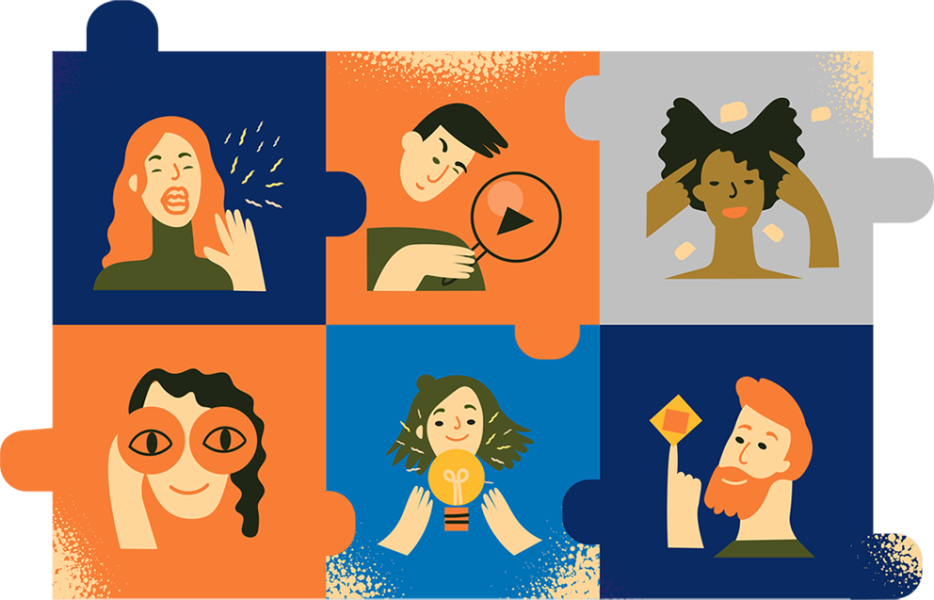 Keep the in-house marketing team or call the creative marketing agency?
The creative marketing agency." Well of course, that's the answer you expect from an agency piece in an agency wrapper, but let's get in front of the issue a little and be upfront with ourselves: it's never an automatic or easy choice, nor should it be. Sometimes an agency won't have what you need, nor what you expect, nor sometimes even what you want. It depends of course on the agency, and on balance with the resources you have in-house. So, let's level the field and look at some of the pros and cons of your options as a professional guardian of your company's brand."
How would you like your branding?
Keep it in-house or call the agency?
Trust, loyalty, focus, expertise and a successful track record: these are really the bare minimum of what to expect from the people handling your brand assets. That applies whether you're running a raft of assets for a team of global sales pros spread internationally across multiple languages, or refreshing a legacy product line with something approaching a modern-day look. Who do you bring on board to support you, that's the first question, which depends greatly on the answers to the following:
Is it a quick fix?
Maybe the fast-and-dirty approach is enough, right? If what you need is just an internal piece, a leaflet or an announcement, surely that's something that's not going to need the full glare of legal, the tricky crew at corporate and the brand police, right? How about just doing it quietly in-house with the enthusiasm that comes from early responsibility and a skillset unburdened by experience?
That's right, in some cases there's no need to get an expensive marketing agency for something this small. The great thing about an internal team is you can tell them what to do and they're contractually obliged to buckle down and deliver. Even if that means cutting corners and trampling the brand guidelines. And let us hope nobody took and shared a picture of that poster before it got taken down for using the old logo.
Those are generally the people who don't join an in-house marketing team: the agency 'keepers' who want to keep it fresh with all the brands they work with, not just yours.
Does the team know the brand guidelines?
Have you ever tried to train a new agency? Did you notice there were always a couple of really eager people on the team who asked the right questions, wanted to get under the skin of your brand, did their own research and were quickly comfortable with representing the company through new communication assets? Those are generally the people who don't join an in-house marketing team: the agency 'keepers' who want to keep it fresh with all the brands they work with, not just yours. Sure, an in-house team will only work with your brand, only handle the same visuals every day, only obsess over one idea for so long it becomes difficult to pull back to see the big picture. Maybe it's agency bias, but bored people make mistakes, and agency work is never boring.
Will the marketing agency be faster?
This too depends on a lot of factors, not least what resources your in-house marketing team might have. If you're making use of a modern digital collaboration platform, or a creative management platform, allowing real-time changes and data sharing, that's a plus. And of course, if your team is just around the corner, you can walk to their desks for a quick catch-up on progress. (Compared with an agency, where you can mostly do the same, though the catch-up might take a phone call first).
Who will be cheaper?
And here we are at the bottom line, the skip-to-the-end crucial question that should be the hardest to answer yet somehow isn't. This depends of course on the total cost of owning your choice. Sometimes you might need a marketing agency for a few weeks a year—brought in like a gardener to tend to the fruit trees and later in the year for the harvest. Would you rather pay a full-time gardener to come live in your house, year-round, even in Autumn when there's nothing to do but brush away leaves and wait until Spring?
Similarly, sometimes you have an in-house marketing team that must justify its existence by churning out pointless repetitions of old ideas, just so they can finish the day having done something. Many companies are opting to shoulder the salaries of an in-house team, others prefer the more casual approach, buying agency time on an as-needed basis.
At the end of the day, you get what you pay for: sometimes that's less than you need, sometimes more than you bargained for.